Semi-permanent make up is a fantastic and cost effective way to maintain your facial appearance and a solution to the more vexing beauty problems (over plucking, scarring etc). The effect is achieved in by infusing hypo-allergenic specialist pigments into the dermal layer of your skin, where they remain all day, every day.
The results fade gradually over 1-2 years, with a "colour boost" recommended 12-18 months after the initial application – to maintain a fresh appearance.
Contact me: 07919141075
Eyebrows £299
Eyelash enhancement £149
Top Eyeliner £199
Bottom Eyeliner £199
Both £375
Lipliner £199
Lipblush £299
Eyebrows £299
Regardless of the natural growth of your brow hair, or your current brow shape, semi permanent eyebrow tattooing can provide you with the perfect look you have always wanted. Add beautiful shape and lift to your brows. Define sparse or over-plucked brows – no more brow pencil.
Create a natural look, which frames the face and looks youthful.
Lip blush £299
Achieving the perfect lip contour and colour is very time consuming and something that has to be repeatedly applied throughout the day. If you are looking for a lip transformation that takes the hassle out of applying lip liner and lip stick then lip liner and lip blush is the treatment for you!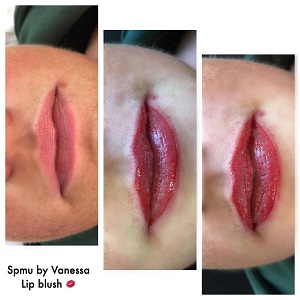 Eyeliner £199
Eyeliner gives a beautiful smudge resistant finish that looks perfectly applied day after day. It can be applied in a choice of looks from a subtle lash definer to an intense shade to accentuate your eyes.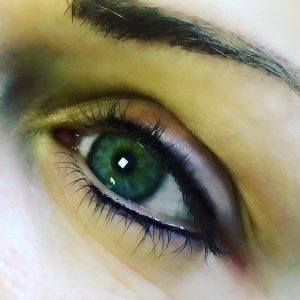 Age/Sun spot Removal from £49 (with £5 extra per spot)
Age spots are flat, brown , grey or black spots on the skin. They usually occur on areas that have been exposed to the sun. Age spots are also called liver spots, senile lentigines, solar lentigines or sun spots.
The Accurett treats age spots successfully in one treatment using a high pressure micro fine jet of cryogen with millimeter accuracy. Liquid CO2 freezes the water in the cekk forcing the cell to expand destroying the cell membrane.
The treatment takes seconds to complete and causes very little discomfort with amazing results in just one go!
After approximately 2 weeks of healing time, the age spots will have disappeared, leaving new blemish free skin. Your skin will be completely healed within 1-2 months.It's simple, just keep it dry and use a high SPF once it's healed.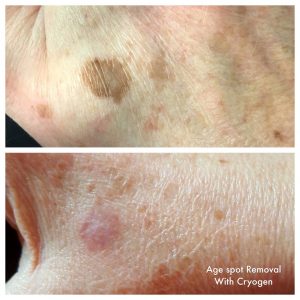 MESO Vytal Gentle Skin Boost
£60 per treatment – Full face
£80 Full face and neck
£360 Course of 6
£470 Course of 8
Vanessa is pleased to be able to offer you a new and effective MESO Vytal digital skin needling treatment. Unlike most other treatments it is a mechanised way to deliver active ingredients into the skin with minimal trauma and down time. Finishing Touches are the only official UK distributor for these products and have worked extensively with our partners in the Amiea brand to ensure they are tailored to the needs of micropigmentation technicians.
One of the main thoughts behind the development of the MESO Vytal concept is how to solve the problem of conventional methods that can not implant bigger particles deep enough into dermal layer. MESO Vytal substances penetrate very effectively right to the intersection between epidermis and dermis and place the highly effective substances directly at the problem areas.